Vy 73, M&M team
Morning update:

Hello Lunatics,

many tnx for he nice greetings from all over the world. Very much appreciated! The 23 cm session yesterday was fine, we had good echoes.13 cm today is more difficult; we are not satisfied with the echoes and tried to optimize the feed position several times for finding an optimum. Propagation seem to be below normal, we have a lot of librations fading also. Worked so far: OK1CA (Franta, tnx for rising so early, we were happy, when we heard the first solid signal), SP6OPN, G3LTF (in CW and later in SSB), F2TU (in CW and later in SSB), DL4MEA, OZ4MM; DF3RU, SV3AAF, PA0BAT, SM2CEW, LX1DB (in CW and SSB).

Yesterday evening we had heavy rainfall with thunderstorms, today it is misty and wet. The ground around the dish is muddy, our shoes are sticky and it is very cold. Our nice hosts are trying to make us warmer with cushions and an electrical heater.

A hint for the next days: please repeat your call signs, , if you copy YYY?? many, many times…. you now know ours, but we don't know yours, when you are calling ;-). Our working conditions are not optimal, all coax cables are longer than we would need (because we don't know the distance to the dish in beforehand), we built up a complete EME station within one day, yours has been optimized in month and years. So please be patient and insistent, help us to get your call signs correctly out of the mud (in the real sense of the word….)!!!!!

We have no internet on site, but Monika drives with the hosts or by train to an internet café in the next town once a day (a café without coffee, this is a real problem, hi…). We don't want to move our car due to the big holes in the streets, hi. And she manages the sked requests from the café, so please be patient, if we don't answer immediately.

Vy 73, M&M team
| | |
| --- | --- |
| | |
| M&M team take a rest and lunch | 13cm set up |
---
13th. of May 2010
Afternoon update:
Hello lunatics,
yeeeessss, we are in Kaliningrad, not directly in town, but in the "Kaliningradskaya oblast", in the surroundings of the town on a farmhouse ground. Kaliningrad is part of the Russian Federation, but without direct access to Russia, surrounded by Lithuania and Poland, this is the reason for the separate DXCC status. And yes, it was very, very difficult to get all the permissions we needed to get qrv from here – it is not only one permission, hi.
When we applied for a license, we expected the prefix UA2F/. But after an expert finding by the General Radio Frequency Center in Moscow, we were assigned the special event callsign R2/DL1YMK – much better for CW! Thereafter, we needed a second permission from the ROSKOMNADZOR in Kaliningrad (sorry, without translation!) to be able to import and to use the radio devices in Kaliningrad territory. The last hurdle was the allowance for the import of the equipment by the local customs. So it took us months and the kind help of a lot of nice people to find our way. We want to say thank you to RW3BP and to RA3AQ, who provided us with the first forms for the GRFC, further to the German embassy in Moscow and Kaliningrad, who helped us several times by providing us a kind and experienced contact person for granting the next permission and for explaining them in Russian language what we actually needed. A special thanks to Larissa for her extremely professional and quick work and to our customs agent Alexander - and of course to OK1DFC for the latest updates on the web site, which he again arranged for us on his home page. There you find photos and the timetable!
We have very tolerant hosts (they must be….), who additionally let us a little hut as shack and didn´t plant anything around the cabin in the garden place, as they knew that we needed some generous space for the dish. So the strawberry fields are far enough away, hi.
After the last update we worked additionally on 23 cm: SP7DCS, PA0BAT, SM4DHN, IK3COJ, SV3AAF, OE5JFL, OK3RM, UT5JCW, DJ9YW, DL0SHF, G4RGK, LX1DB in CW and SSB, N2UO, DL6LAU, K8EB, K0YW, K5JL, K2UYH, CT1DMK, WA6PY, OK2DL, W7JM, in total 39 initials so far.
So we hope our station will work also on 13 cm tomorrow and 70 cm on Sunday (Saturday again 23 cm) to give many stations a new and obviously rare DXCC – weather permitting, as we are close to the sea (we never will find a cozy place deep in a valley…).
We already have sked lists for 18th May for 23 cm in JT 65C from 1700 to 1900UT (IK5QLO, RD3DA, PA0PLY, WW2R , each 30 min) and for 19th May for 70 cm from 1630 to 2130, first EA3XU in JT65B and the others in CW – as "plan B", if random fails on Sunday. We have internet access from an internet café (without real coffee, Peter!!) and from time to time on site. So please mail sked requests to DL1YMK at aol dot com.
Vy73, M&M team
Morning update:
Hello lunatics,
despite our doubts (and all problems in beforehand), whether we again will be able to set up an EME station anywhere in a new country we managed it and are now activating a DXCC, which has never been activated before on 23 cm EME. Our first station was OK1DFC – thanks a lot Zdenek for rising so early in the morning!! From 0325 to 0700 UT we worked: OK1DFC, OK1CA, VK3UM, UA3PTW, DL4MEA, SP6JLW, HB9BBD, OZ4MM, PA3CSG, JA4BLC, DF3RU, OZ6OL, DF3RU in SSB!!, ES6RQ, G3LTF, JA6AHB, VK3UM for a quick report exchange again, G4CCH, SM2CEW, F2TU in CW and later in SSB. The call doesn't seem to be problem, every station came back with the correct callsign. If you do not know, where we are: we expected another prefix with 3 digits, when we applied for a license, but we learnt, that our call is a special callsign mainly for special event stations. …..and as SM2CEW wrote these minutes: "Fantastic surprise... you sure picked a place for your holidays that is no advertised in all travel magazines.. hi! Glad they let you in with all "suspicious" radio equipment. Can understand that it took a bit of negotiating to get the license and the all permits".
Our windows are limited – as always, hi. To the East there is the chicken shack (sorry Doug, this was the reason why we were late!), to the West there is the farm house – so we will see how long we will be able to see the moon.
The weather was very windy yesterday, when we set up the dish between the strawberry field and our shack in a hut– and very sunny, so we both got a sunburn, but today it is calm, so far, and overcast.
Vy 73 M (in an internet cafe) &M

| | |
| --- | --- |
| | |
| 23cm ready and pointing to the Moon | R2/DL1YMK CQ 1296 MHz |
---
12th. of May 2010
Hi lunatics,
just in an internet cafe, dish is set up, feed will be inserted tonight. Very doubtful so far, if i-net access will be possible from site. First operation on 23 cm on schedule as planned 2nite from 0230UT supposedly. We have been allowed to enter the country with the full equipment. Keep your fingers crossed for fortunate WX, wind was AGAIN very high...
73 / 88 de M &M

---
1st. of May 2010
Hello lunatics,
today we got a final Roger for the customs procedure for importing our equipment (with the helping hand of the German embassy), so we hope to be able to pass all border controls with the car and the equipment. As we announced earlier, we hope to get qrv under XX/DL1YMK from Thursday, 13.05 for 10 days on 70, 23 and 13 cm. It is a pity, but we didn't obtain an allowance for 9 cm.
As with our trip to OH0, the Aland isles, we will not disclose the destination in order to give all interested hams the challenge to decode the special call for themselves on a truly random basis. However, we made a timetable for the bands showing the times of our moon-windows to give all the possibility to check their mutual windows. Now make an educated guess, hi…..
The table shows our estimated moon-windows (all times in UT) with the following meanings:
First: day
Second: our moonrise with windows to Asia/Pacific/VK
Third: our window to US East
Fourth: our window to US West
Fifth: our moonset
Sixth: planned operating band
Date:

Moonrise &

VK - Asia

US East

US west

Moonset

QRG

Remarks:

13.05.

02:30
10:20
13:00
17:30
1296,045
random

14.05.

03:00

11:30

14:00
19:00
2320,100* see remarks bellow
random
15.05.
05:30 - 14:00
2320,100* see remarks bellow
random
15.05.
15:00 - 19:00
1296,045
random
16.05.
04:40
13:00
15:40
21:00
432,045
random ATP
17.05.
06:00
14:40
16:40
21:40
2320,100* see remarks bellow
16:00-16:30 K2UYH
18.05.
07:00
15:40
17:40
22:00
1296,045

17:00-17:30 IK5QLO

17:30-18:00 RD3DA

18:00-18:30 PA0PLY

18:30-19:00 G4DZU

19.05.
08:40
17:00
19:00
22:40
432,045

16:30 - EA3XU - JT65B

17:30-18:00 - F2TU

1800-1830 - DL4MEA

1830-1900 -

1900-1930 - W5LUA

1930-2000 - WA6PY

2000-2030 - G3LTF

2030-2100 - N4GJV

2100-2130 - K5GW

20.05.
10:00
18:00
20:00

22:40
not specified now
21.05.
11:20
19:00
21:00
23:00
2320,100* see remarks bellow
22.05.
12:40
20:00
23:00
23:20
1296,045
DUBUS EME contest
23.05.
14:20
21:00
23:15
23:30
preferred QRGs

432.045

1296.045

*2301.975 (RX) / 2304.100 (RX) / 2320.100 (RX/TX)
On 18th to 20th we have no preferred band so far, but we are open for skeds on all bands. Please mail to DL1YMKataol.com for any sked requests, even in JT mode for smaller stations, which missed us during the random activity. Proposal: on 18.05 on 23 cm skeds in JT mode?
Please note: during the Dubus contest we will have only a very poor windows to the US in our western window. But perhaps it might be possible to work us during our moonrise…(to US west it could work via the 'long path!)
---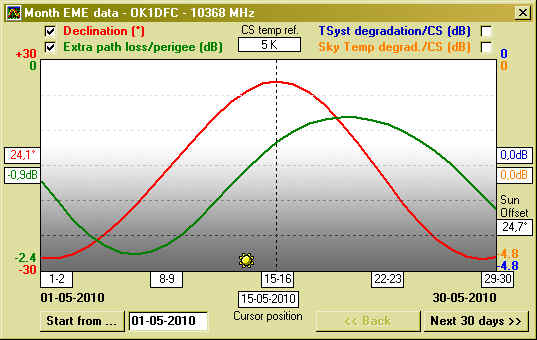 Moon windows